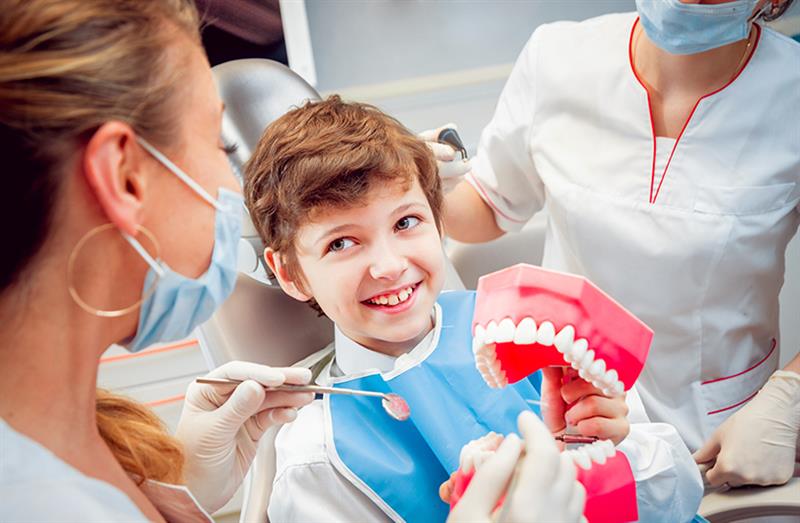 Your Child's First Visit
Our entire pediatric dental and orthodontic team is committed to creating a positive relationship with you and your child. We provide expert dental treatment in a comfortable environment your child is excited to visit. The first time your child visits us at Kids First, we will discuss their health history, past dental experiences, and any related anxieties you and your child may have about dental care. To help us serve you best, we need to know what your expectations and needs are for treatment. Urgent concerns, like pain or a broken tooth, will be addressed immediately! We want your child to look forward to going to the dentist or orthodontist each time they visit us. Good communication is essential to forming a lasting relationship, and we encourage our patients and parents to ask questions and voice concerns at any time!
Tips for Parents The first visit to the dentist can determine your child's attitude towards future dental visits, so it is important that you show your child that there is no reason for concern or fear.
DOs:
Make dental visits enjoyable for your child—our fun, engaging staff is here to help!
Be relaxed and calm.
Set a good example for your child by brushing and flossing daily and visiting your dentist regularly!
DON'Ts:
Bribe your child into going to the dentist.
Use dental visits as punishment.
Let anyone tell your child "scary" dentist stories.
Use words like "hurt", "shot", "drill", "X-ray" or "needle".
Remember that for a young child, crying is a normal reaction to almost any kind of anxiety. New experiences, strange people and places can be very overwhelming.
At Kids First we anticipate the potential anxiety of our young patients and are well-trained in helping calm children that may be anxious or afraid during their dental visit. Generally, the more relaxed the parent and dental staff are, the quicker the child is in overcoming their anxiety.
Save Time Before You Arrive Complete forms here
Do you dislike spending twenty minutes filling out paperwork when all you want is to see the dentist? Our new patient forms are available online so you can fill them out in the convenience of your own home!
Click HERE to complete our new patient form. Save yourself time in the office by filling it out and bringing it with you to your child's first appointment. Give us a call so one of our team members can work with you to schedule your child's appointment.
Call us today at (203) 255-6851 to schedule your child's appointment!